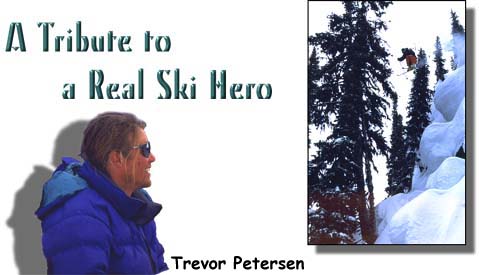 On February 26th, 1996 a very close friend of ours was killed in the mountains of Chamonix, France. He was a pioneer in the extreme skiing business and a featured skier in most of RAPís ski films. The cool thing about Trevor was that he didnít just talk about it or pose for the camera, he actually did it. Nothing was more difficult for Trevor than playing the image man. But that is what allowed him to pursue his dream of being a pioneer, a mountain man, being out in the wilderness skiing the steeps, usually with his best friend and team mate, Eric Pehota. It was a very difficult time at RAP when Trevor died. He had been in 9 of the 10 ski movies we had made and he was a natural star. Trevor understood the risks he took and accepted them. The tragedy in this story is that he left behind his family, Kye, Neve and Tanya. But he will always be remembered for his spirit of adventure and his ability to see the best in everyone and every situation.

james angrove
If you would like to contribute to the Trevor Petersen Memorial Fund, you can forward it to:
ROYAL BANK
101 - 4000 Whistler Way
Whistler, B.C.
V0N 1B0

ACC. # 507-394-5
TRANS. # 08500
We will also accept personal written tributes that will be forwarded to the family.

Copyright © 1998 Real Action Pictures, Inc.